FORGET America's got Talent.. as a busy UK warehouse is where the talent's really at!
While Simon Cowell's search for talent resumed last weekend, staff at an online shopping giant had already found their star.
The Amazon Talent Show is Amazon's annual global search for a star which sees employees from the firm's buildings worldwide, including its fulfilment centre in Tilbury, applying to take part in categories including musical talent, dance acts, and variety performances.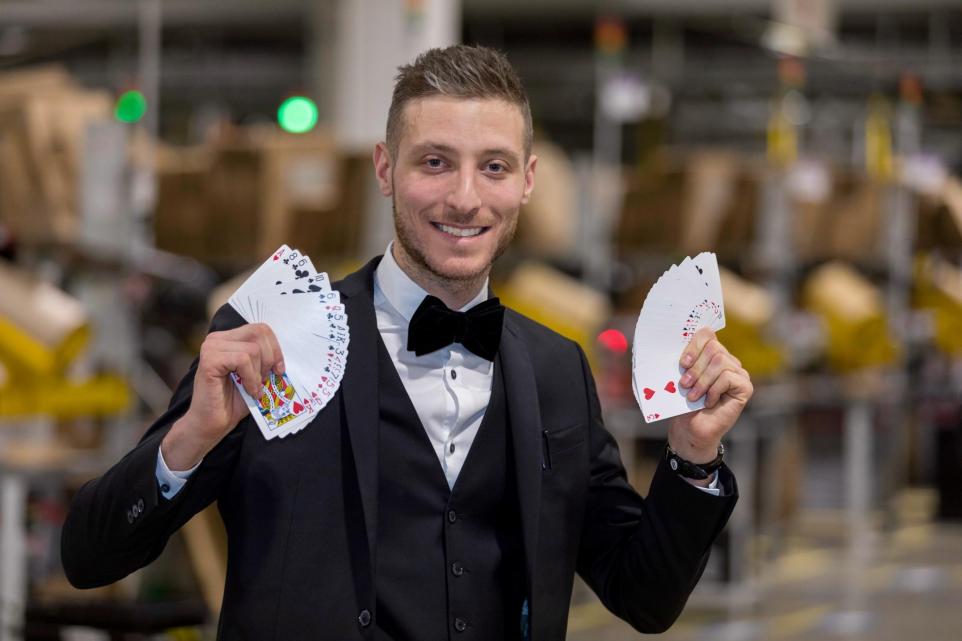 A member of the Tilbury team in the United Kingdom was named as one of three winners, beating hundreds of contestants in the international competition.
Josh Hodis, who joined Amazon in 2020 after a career in performing arts and technical theatre, works in the packing department but his real passion lies in magic.
This interest first started after going to a magic show in college which sparked an 11-year journey which has seen Josh transform his hobby into a career, with performances at swanky London hotels like The Ritz and The Savoy.
"I have a background in musical theatre from early childhood, so I'm very comfortable performing in front of an audience," explained Josh.
The Essex-born magician continued: "Since progressing with magic, I have had many great opportunities over the years to perform for many famous faces in various nightclubs and bars."
The format of the competition is recognisable with auditions and rounds of voting, and Josh, who admits he "never imagined reaching the final", says winning the competition is his proudest achievement during his time with the e-commerce giant.
The proud winner said: "Taking part in the Amazon Talent Show was enjoyable from beginning to end.
"The competition has allowed me to build on my stage presence, enhance my portfolio, and make new friends who I may not have crossed paths with otherwise."
Josh shared the title with winners from Amazon's locations in Latvia and Poland.
Ruzanna Sargsyan, who is the general manager of the Tilbury UK fulfilment centre, hopes Josh will inspire other colleagues to follow in his footsteps.
She said: "We are extremely proud of Josh for putting himself forward for the competition and for doing so well."